Our Mustard Story
Anarchy in a Jar started making mustard in 2011. We wanted a spicy, whole grain, all natural mustard with intense flavor. We experimented with different liquid brines, seed ratio and spices to create our three signature flavors: Beer Mustard, Herb Mustard, and Umami Shiso Fine.
What flavors are we concocting in the lab now?
Chili Whiskey Mustard brined with chiles de arbol and whiskey
Smoked Peach Mustard brined with honey and smoked peaches
The Pope's Purple Mustard brined with red wine vinegar, blueberries and shallots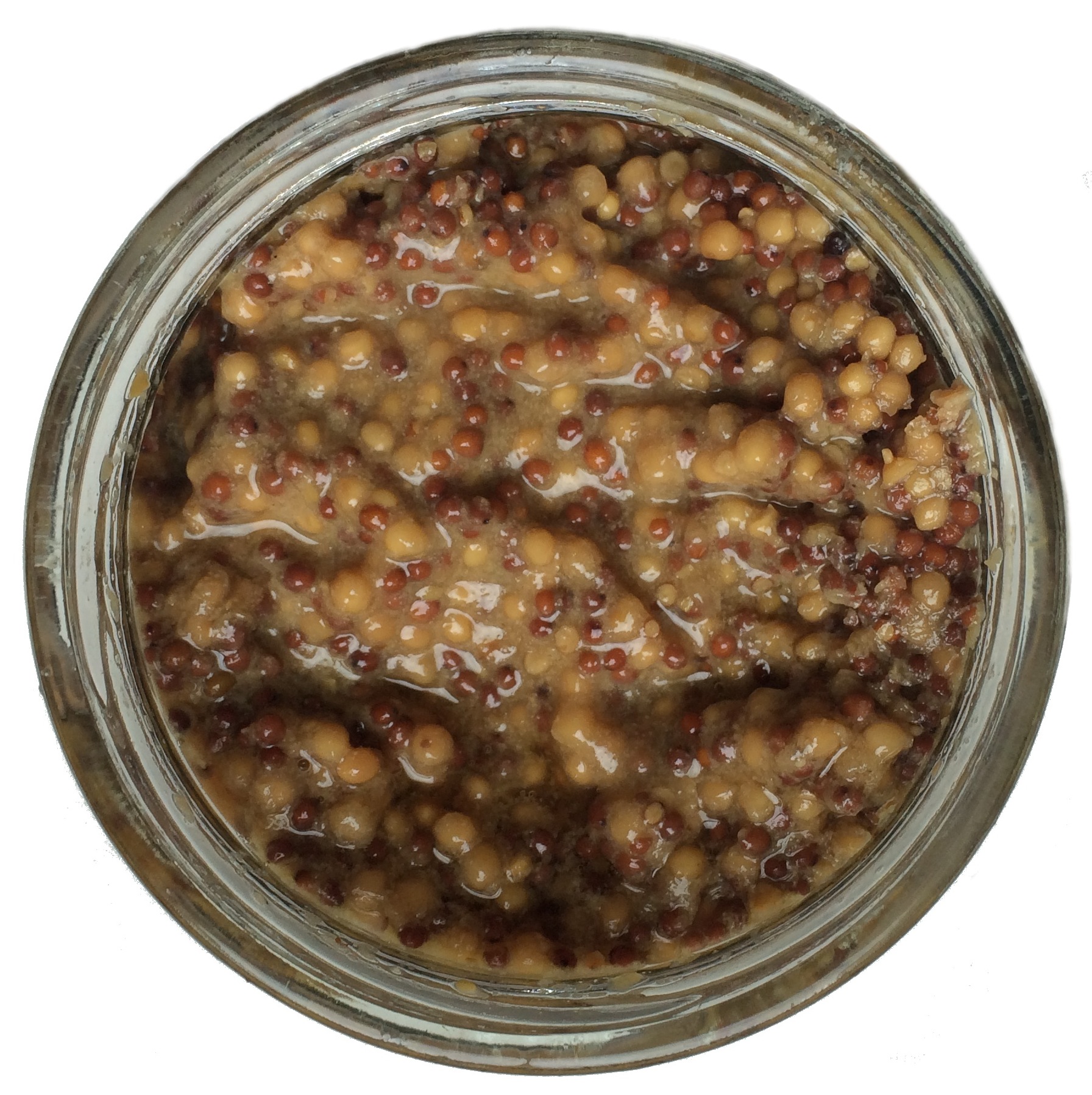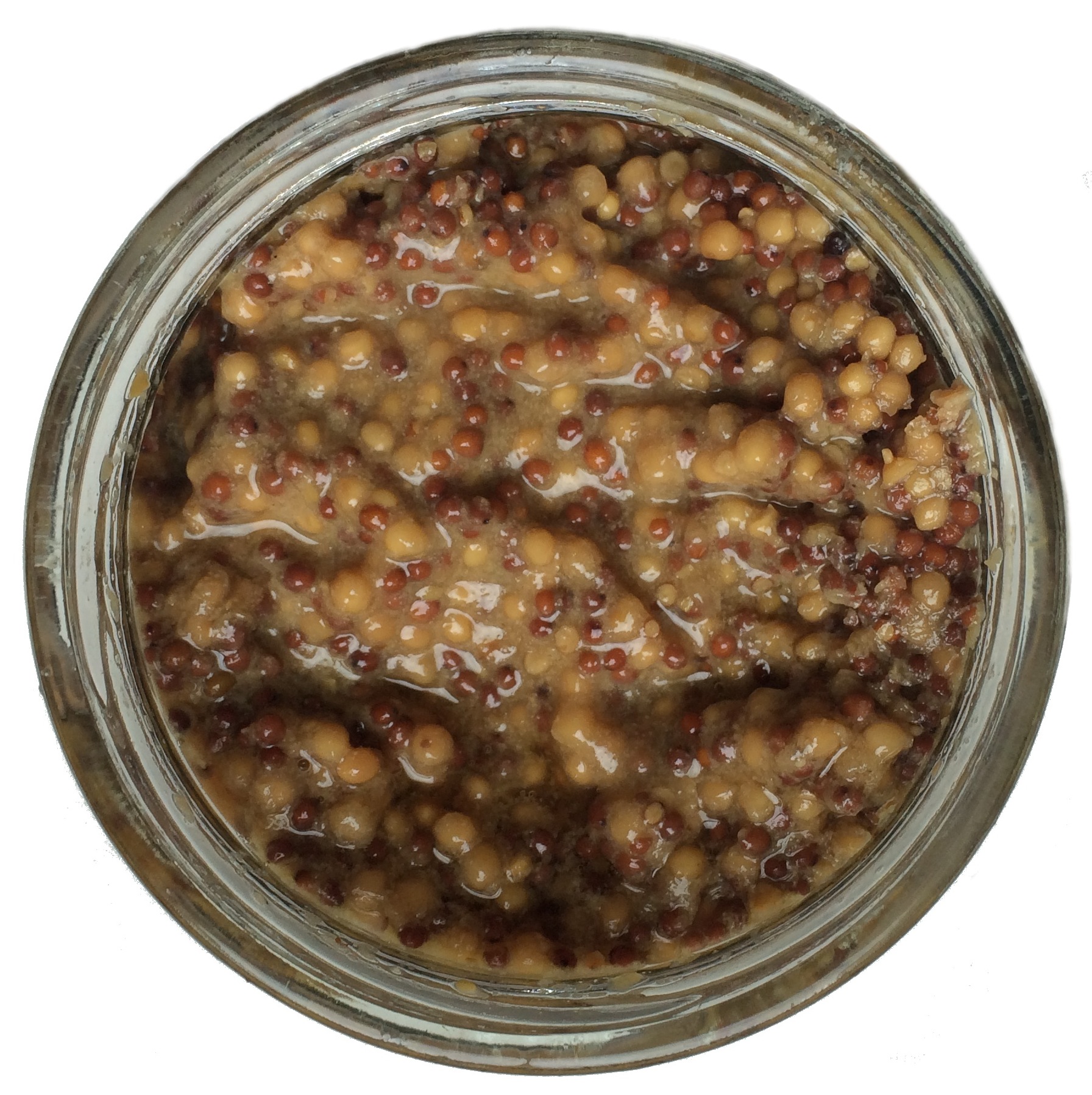 Eat mustard = live forever
Mustard is really good for you:
appetite stimulant + digestive aid
anti-inflammatory, antioxidant
great source of selenium
sinus cleansing
antiseptic and anti-fungal
asthma suppressant
hair growth stimulant
immunity booster
cholesterol regulator
dermatitis treatment
gastrointestinal cancer prevention
delicious
Beer Mustard
IPA BEER + MALT VINEGAR
We love it on ham sandwiches, fresh pretzels, or in a marinade.
Pairs well with buttery and bloomy cheeses, charcuterie and strawberries.
Herb Mustard
TARRAGON VINEGAR + GARLIC
We love it on turkey sandwiches, steak, and in salad dressings.
Pairs well with bold and blue cheeses, charcuterie and pickles.
Umami Shiso Fine Mustard
SHISO LEAF + MATCHA GREEN TEA
Say the name out loud, with attitude.We love it with pork and pastrami.
Pairs well with sharp or bloomy cheeses.
9 Reasons Mustard is Awesome
No just that yellow s**t you put on hot dogs.
Mustard is a complex, ancient condiment that has been used all over the world to improve health and spice up our lives.
1. MUSTARD IS A PLANT
And all of it is edible! The leaves, or "mustard greens", are spicy, and great in salads or stir-fry, and the seeds are used whole or ground to make the condiment. Mustard becomes the magical condiment we know and love when the seeds are cracked and mixed with a liquid, activating the oils that give mustard its' heat and flavor.
2. THE ORIGINAL CONDIMENT
Mustard was probably the first condiment humans ever used to jazz up their food. Archeologists have discovered mustard cultivated in the Indus Valley (modern India) as long ago as 1800 BC. Even Egyptian pharaohs placed mustard seeds in their tombs to accompany them into the afterlife.
3. OLD SCHOOL RECIPES WE NEED TO BRING BACK STAT
A recipe for mustard appears in Apicius, the anonymously compiled Roman cookbook from the late 4th or early 5th century:
ground mustard, pepper, caraway, lovage, grilled coriander seeds, dill, celery, thyme, oregano, onion, honey, vinegar, fish sauce, and oil, and was intended as a glaze for spit-roasted boar
(from, The Incredible Secrets of Mustard: The Quintessential Guide to the History, Lore, Varieties, and Healthful Benefits of Mustard, by Marie Nadine Antol.)
Fish sauce? Honey? Lovage? Holy umami magic!
British mustard balls:
coarse-ground mustard seed combined with flour and cinnamon, moistened, rolled into balls, and dried — just add vinegar or wine to moisten and mix into mustard paste, as needed
4. POPE BE LIKE
Pope John XXII "the Magnificent" of Avignon (1249-1334) was a huge mustard fan; he created the position of "Grand Moutardier du Pape" (Grand Mustard-Maker to the Pope). The papal mustard was a purple mustard from his hometown of Corrèze, made with red wine and shallots.
5. MOUTARDE
The word "mustard" comes from the Anglo-Norman mustarde and French moutarde. The condiment was originally prepared by grinding seeds into a paste with wine must, hence the Latin mustum, ("must", young wine) and ardens, (hot, flaming).
6. DIJON BE FRONTIN' = MOST MUSTARD SEED IS GROWN IN CANADA
The French learned to make mustard from the Romans, and the monks of Saint-Germain-des-Prés in Paris began producing mustard by the 10th century. Dijon became a mustard hub in the 13th century, and one of the most famous Dijon mustard makers, Grey-Poupon, was established in 1777.
Nowadays? 90% of the world's mustard is grown in Canada.
7. TASTE THE RAINBOW
It's ubiquitous:
American -- the familiar yellow squeeze-bottle stuff, colored with turmeric
Spicy brown/deli-style mustard -- chunky, whole grain and spicy
Beer mustard -- seed brined with beer, considered Midwestern, though German in origin
English -- hot, hot, hot!
French Dijon -- brined with wine, originally verjus
Bavarian sweet mustard -- sweetened with sugar, apple or honey
Mostarda di frutta -- Italian fruit mustard, originated in the 14th century
Creole mustard -- whole grain, similar to deli-style
Indian Kasundi -- popular Bengali spicy relish of mustard
8. THERE'S A MUSEUM
The National Mustard Museum is in Wisconsin, and has over "5566 jars, bottles, and tubes from all 50 states and more than 70 countries."
9. U-S-A`
Americans consume more mustard than any other country in the world.