Anarchy + Risotto = Awesome
Anarchy to compete in the 2nd Annual Risotto Challenge! Mark your calendars, May 23rd will be a delicious day so come down to Jimmy's No.43 and sample the rainbow of risottos. The event will benefit Just Food, New York City's local and sustainable food think tank, and is a more highbrow, less artery clogging event than the Bacon Takedown two weeks ago or the Great Hot Dog Cookoff in July (yes, we'll be there with a jam dog).
While we probably will not use jam in our risotto (I'm gagging just thinking about it), we will keep with the ANARCHY food tradition and use only locally foraged New York products.
The recipe is shaping up to be the New York Forager's Risotto, with ramps, morels and fresh peas, all foraged from our local forests (not Prospect Park, the Catskills). Suggestions? Let us know!
Check out Not Eating Out In New York for more information on this thrilling NYC event.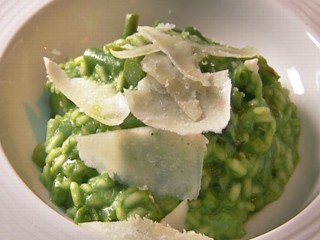 (We want our risotto to look like Lidia Bastianich's above, that was served to Pope Benedict on his visit to NYC!)